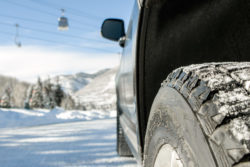 Driving in snowy conditions is what we do.
When arranging transportation from Denver International Airport( DIA / DEN ) to Vail, Beaver Creek, Bachelor Gulch, Breckenridge, Keystone or any of the other ski areas in Colorado, make sure you pick the right transportation company.
To get to Vail or any of ski areas from Denver, it takes about two hours on winy Colorado road.  At MPG-Express we always use top of the line winter tires, and they do make a difference.  They provide exceptional stability and reliability, when there is snow on the road.  Our chauffeurs drive to Vail from Denver year round, and what could seems like a treacherous drive to some people, is like a walk through the park for our experienced drivers.